Last Updated on March 2, 2022 by Allison Price
Canadian riders are often throwing their legs over horses when they are older than others. From 2015 to 2018, 19% of Alberta Equestrian Federation members had reached 56 years old. About 19% of active Horse Council BC members over 60 were from British Columbia. In Quebec, however, only 12% of Cheval Quebec members aged 60 or older were present last year. In 2018, approximately 22 percent of Equestrian canada sport licence holders were over 50 years old, and 10 percent were over 60.
How can riders prolong their riding days and increase their enjoyment in the saddle into their golden years? How can they overcome the challenges that aging riders face?
To find out, two riders aged over 60 were asked to share their experiences. I also sought guidance from an international eventing coach and a physiotherapist who has equestrian clients. Here are their comments.
Horses Enjoyed Differently
Grit High, a British Columbian eventer, began to take up eventing in her 40s and qualified for the 1988 Olympics. When she was 57, High rode her last CCI*** three day event. She then bought a warmblood prospect, who is now four years old, after she retired her event horse. High learned dressage from Leslie Reid, and jumped with Eddie Macken in her 60s. She said, "I have never considered myself old." When I was competing, I was able to do as well as anyone else so age wasn't an issue.
High was a strong competitor in her 60s. She had made her child a champion jumper and dresser, and she was now at Prix St Georges level. High says that she became aware of her body's inability to play fair when she was 70. You know that you are there with the senior citizens when you turn 70. Right?"
High, now in her 70s, says that it wasn't until her 70th Birthday when she decided to stop competing and instead enjoy horses differently.
"I quit competing at 70 because I knew I wasn't getting better and it felt more like hard work than fun. I could have been to Grand Prix (dressage), but it was too exhausting. It was enough.
High was unable to find work after he retired from the competition. High said, "It's like giving up on competing. You need to find motivation and incentive.
High rides a few days a week but says that her motivation is to stay healthy and have fun. She walks every day, does Pilates twice a week, and sees a personal trainer once per week. High says that her muscles can deteriorate quickly if you don't do anything. It's very difficult to recover from a setback. Keep that in mind! Don't get injured."
She added, "It is not fun as you age, but as long you are active and continue doing what you do, it's not too stressful."
Feeling grateful
Wayne Sawchuk, now in his 60s has learned to be more cautious and fit so that he can continue riding the backcountry trails that he has loved since the mid-1980s. Photo by Tania Millen
Wayne Sawchuk shares some of the same sentiments, but he has a different riding history. Sawchuk, who is in his 60s, lives in northeast BC. He does three-month-long pack trips in the Muskwa–Kechika area each summer. Sawchuk grew up riding backyard trail horses, and began doing pack trips with them in his 20s after realizing that horses could transport his backpacking gear.
He says, "Pretty much every year since the mid-1980s, I've spent three weeks on the trail in summertime." "I consider myself very fortunate to have been able do that, and to be able to continue it. It is something to be thankful for.
Sawchuk says that he has become more conscious of the importance of staying in shape over the years. It takes longer now. It's part of my daily life, just like walking.
"I don't want to take the risk of injury." He admits that he is now more careful than he used to be.
Sawchuk also expressed gratitude for the trips that he takes, saying, "I don't take it for granted anymore." I used to believe I could do it all. That was unquestioned. Now I know that this is not the end of my journey and that there are many more opportunities. It's not far off, and I am able to appreciate it more every day I'm there. It's more enjoyable for me. I don't feel as anxious. I'm a lot calmer. My last year could be any year. "I'm very lucky to be here, there is no doubt about it."
Continue to Ride
Above: Laframboise encourages seniors to find the right horse, and to continue riding.
Lorraine Laframboise encourages seniors to continue riding and follow their passion. Growing up on her family's Quebec farm, she competed at the Kentucky Three-Day Event 1980 and coached the Canadian Three-Day Event Team mid-90s. Laframboise, now in her 60s, is an internationally-level Master Coach. She believes it would not surprise her if there is an increase in riders after 60. "I believe there is a push for people to get out of cities and return to horses."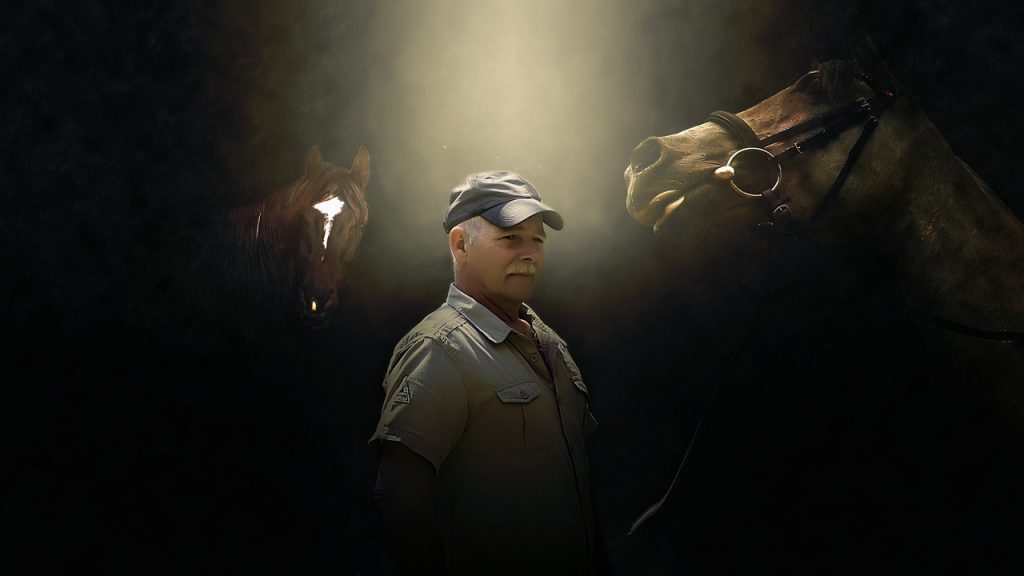 Laframboise says, "I think people become more attracted to (three-day eventing) as they age." It's a sport that people really enjoy, because it doesn't require expensive horses. Most people can enjoy riding horses.
Laframboise believes it is important for older riders that they have the right horse. She admits that if she were horse shopping for an elderly rider, she would look for an Appendix Quarter Horse with a light, easy-to-handle, and a great brain.
Laframboise believes that older riders are affected by the lack of competitions and training opportunities outside of their home. To get my older riders riding in the snow or mud, I need to create conditions.
She says that older riders need to have two to three more sessions to reduce their anxiety and to improve their physical reaction time. As you age, you become more worried about injuries. No one wants to fall. It's not something you can afford to do when you get older.
Looking after Your Body
Sandra Sokoloski's clients face similar problems to the ones experienced by High, Sawchuk, and Laframboise. Sokoloski is a physiotherapist and rider who has used specialized equipment and techniques for the past 15 years to help her clients with their riding.
More than half of Sokoloski's clients are in their 50s or early 60s. Many riders visit her because they are suffering from back and hip pain. About 60% of them still compete. Sokoloski states, "I don't believe there's an age where riders stop wanting to learn how to ride well." They have to accept that their riding style will change (discipline )…) or find a horse that is more suitable.
She continued, "It is usually in the early to mid-50s that people realize that competing doesn't really fulfill their soul and they just want fun." Although they have their coaches and continue to train, they are still committed to their riding. However, they recognize that competition is not what brings them joy. This is a normal age in our lives when we examine our own goals and aspirations.
Sokoloski says, "As we age, 60 to 70 is when it really starts to bother you – balance is the first thing to start to decline." Strength is likely the second. Reaction time is the third thing." Activities that focus on balance, glute, core strength, and hip mobility are all encouraged.
She adds, "Activities that encourage meditative self-awareness in movements, such as tai chi and yoga, keep that ability to feel how you feel inside and control your movement patterns."
Older riders have to deal with fear, pain, resignation, and physical asymmetries. They also need help finding someone who can help. Sokoloski believes that it is essential to continue riding safely. She suggests activities that are balanced and include cardio components, such as swimming, Pilates, yoga, tai-chi, biking and walking.
While older riders face challenges that the younger riders don't often have to worry about, it is clear that riding can be enjoyed by all ages and stages of life. Riders who ride after 60 years of age are more likely to be fit and comfortable riding horses. They also accept the fact that changes will occur.
Although there aren't many certainties in horse riding, one thing is certain: at some point we will be leaving the sport. The message from the aging riders is clear: Enjoy horsing about while you can.