Last Updated on March 2, 2022 by Allison Price

A pony made from the rugged hills and valleys in Wales is strong, reliable, and beautiful. The Welsh Mountain Pony, a descendant of prehistoric Celtic ponies has been in existence in a recognized form since approximately 1600 BC.
These ponies were able to adapt to harsh terrain, poor feed and inclement weather. They became a tough, agile, and intelligent animal.
Julius Caesar, who arrived in Britain in 55 BC and 54 BC, wrote about the ponies of Wales and their speed and docility. He is believed to have established a stud near Lake Bala, and sent some of his ponies back to Rome to pull chariots. It is believed that Arabians were brought to Britain by the Romans and bred with native ponies. Later, the Crusaders returned with their horses, which may have been infused with Arabian blood.
Although the ponies have maintained their basic characteristics, this blood has given them some refinement. "They (Welsh breeders) are well-known for their beautiful heads with big, bold eyes, and well-set ears," Tracy Dopko, Darwell, Alberta, a Welsh breeder, Equine Canada Senior Welsh Pony judge, and United States Equestrian Federation Welsh Pony Judge, said.
The Welsh Cob is a related horse to the Welsh Mountain Pony. It was created by crossing Welsh Mountain Pony mares and Barb stallions. The "Powys Horse", which was larger and more powerful than the Welsh Mountain Pony, became a prized riding horse, cavalry horse and working horse.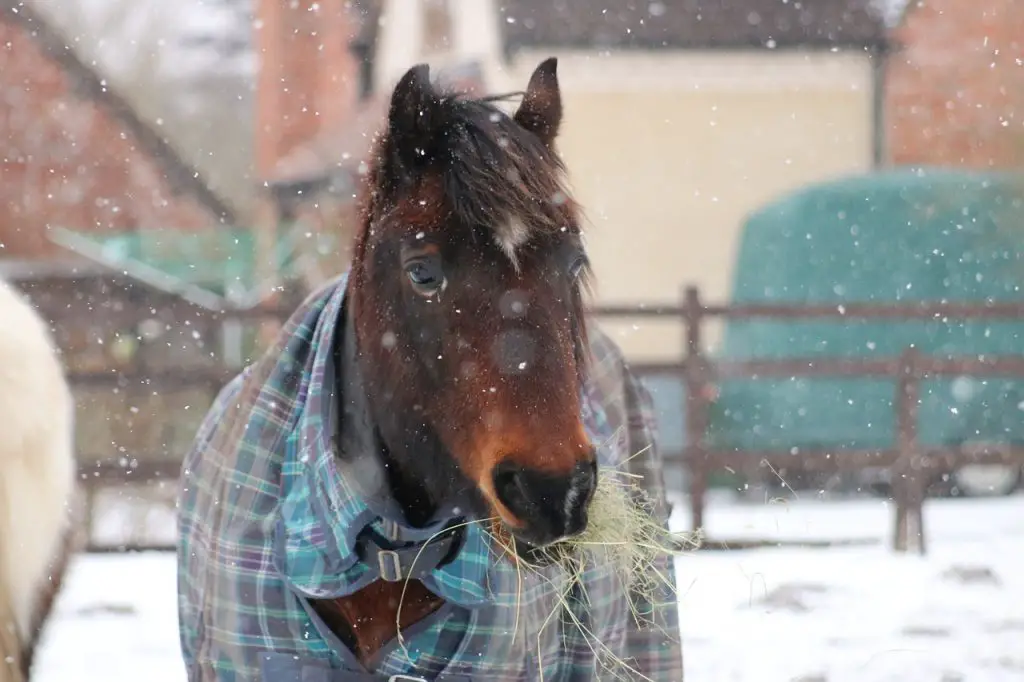 Welsh Cob "rounceys", or "destriers," carried British Knights to battle ahead of the big war horses. Others worked the land and hauled wood. These jobs made the Welsh Cobs well-known in medieval times. They were known for their endurance and speed. They could even match larger destriers in stride.
King Henry VIII of England decreed in the 16th century that all stallions below 15 hands and all mares less than 13 hands must be destroyed. Although this could have ended the Welsh Mountain Ponies, isolated herds that remained in their home country were able to evade the fatal mandate.
Over the centuries, Welsh Ponies, Cobs, were valued as horses, carriage horses and work horses. Welsh Mountain Ponies were used to pull loads and below ground ponies in the UK when coal became a major commodity. They pulled families, traders, and businessmen in harness. Their endurance at the trot made them excellent cart drivers. Welsh were the mounts for many children and helped postmen deliver mail.
The role of Welsh Cobs was to pull guns and other supplies from the front lines during World Wars I and II. The British War Office valued Welsh Cobs so highly that they paid a premium to purchase the finest stallions up until the middle of the 20th century.
The Welsh Pony and Cob Society was established in Britain in 1901. It was the first registry to register Welsh Ponies and Cobs. In 1902, the first stud book was published. It contained records for 38 stallions as well as 571 mares.
The Canadian Pony Society was the first to register Welsh in Canada. The Canadian Pony Society was established in 1901 and became incorporated in 1908. It also registered other pony breeds such as the Shetland and Dartmoor, Highland and New Forest. This is something it continues to do today.
A chestnut mare called Belmont Daisy and a bay-stallion named Belmont Star were the first Welsh to be imported into the United States and registered. They were both born in 1907, and were owned by Hanmer & Hodgson.
The Welsh Pony and Cob Society of Canada was founded in 1979 by a large group of Canadian Welsh owners. The Canadian Society had 11,298 purebred Welsh registered as of 2008. This makes the Welsh Pony and Cob one of the most beloved pony breeds in Canada.
If it looks like a welsh…
Contrary to popular belief, Welsh ponies aren't fat and furry, unlike some pony stereotypes. Dopko said that the Welsh are balanced and have plenty of bone. They are also elegant and powerful, as well as strong and powerful.
Any colour can be used to make Welsh, except skewbald and piebald. The four sections of ponies in Welsh Societies around world are divided into four sections. However, there are some differences in height allowances for the first two sections: Sections A and B, The Welsh Mountain Pony, respectively.
Section A: The Welsh Mountain Pony
Section A is the original Welsh section, which is small, agile, hardy and resilient. The Welsh Mountain Pony is the source of all the other sections.
Section A ponies cannot exceed 12.2 inches in height in Canada, or 12.0 in Britain. Their heads are small and clean with small ears and large eyes. The neck should be long, the shoulder should slope back and the back strong.
The legs should be straight with long, flat cannon bones and prominent hocks.
The Welsh Mountain Pony's movement is straight and free, with strong hind movement and well-flexed hocks.
The foundation sire of the modern Welsh Mountain Pony is the Dyoll Starlight, a grey Dyoll Starlight 11.2-hand born in 1894.
Section B: The Welsh Pony
To create a Welsh horse-friendly breed, Arabians and Thoroughbreds were crossed in the 19th century with Welsh Mountain Ponies.
Tan-Y-Bwlch, a stallion who shaped the modern Welsh Pony, was born in 1924 and died in 1953. Many Section B ponies can trace their roots back to him. The Welsh Pony has the same characteristics as the Welsh Mountain Pony but places a lot of emphasis on horse riding.
Section B must not exceed 14.0 inches in height in Canada, 13.2 in Britain, or 14.2 in the USA.
They can be the children of one or more Section B parents.
Section C: Types of Welsh Pony of Cob
The Welsh Pony of Cob Type, as its name implies, is a stronger version of the Welsh Mountain Pony with Cob blood.
Norman Kalinski of Caroll in Manitoba, Secretary of Keystone Welsh Pony and Cob Association and Welsh breed judge says that when the need arose to transport the Welshman through the rugged hills with a larger animal, the Welsh Pony of Cob was created by crossing the Welsh Mountain Pony and the Welsh Cob.
The Section C can serve two purposes because of its agility and surefooting.
Welsh Ponies of Cob Type should not exceed 13.2 inches in height It is recommended to have a moderate amount of silky feathering.

Section D: The Welsh Cob
In the 1800s and early 1900s, Welsh Cobs were bred with trotting breeds like the Hackney and Norfolk Roadster. This created the Welsh Cob that we now know. Trotting Comet and True Briton are some of the most influential stallions in modern Welsh Cobs.
Section D's are stronger and larger than their counterparts but have a distinct pony character, particularly in the head. Shoulders should have strong, well-supported shoulders, a long neck, well-carried muscles, well-developed back and loins, and long, muscular hindquarters. Good bone should be present in the legs, with strong gaskins and large hooves.
The gaits are powerful and forceful with excellent knee and hock action. Welsh Cobs are more energetic than Welsh Mountain Ponies and were created for strength, endurance, and courage. They can reach any height above 13.2 inches.
Welsh, regardless of its section, should look the same as any other breed. Dopko stated that a well-bred Welsh Pony/Cob should be easy to identify as Welsh.
Half Welsh can be registered, provided that one parent is registered in each section. You can have any other breed parent. Welsh crosses are very popular, especially for sport ponies in competitive circuits.
The Welsh have played a significant role in the creation of many breeds over the centuries, including the Morgan, Pony of the Americas and Hackney ponies, the Welara and British and German Riding Ponies.
WORK AND PLAY
Today, Welsh Ponies or Cobs are not prized for work or war but for their ability to enjoy pleasure and compete. You can find them in almost every discipline: from hunters to dressage, gymnastics, jumpers, English and Western pleasure, to combined driving. Kalinski stated that the versatility of the Welsh breed makes them very popular in sport and competition.
Their great conformation and amazing movement are partly responsible for their versatility. They can often be compared to larger horses because of this. Dopko said, "They are well-known for their strength and long stride."
It is incredible to see a Welsh Pony/Cob glide around the arena in a full, extended trot. It is amazing to see their power, beauty and suspension.
Welsh are well-known for being great jumpers. They are often seen in the jumper or hunter rings, on cross-country courses, or in the hunt field.
This athleticism, combined with intelligence and a good work ethic makes them easy-to-train. Marie Howrans (Secretary of the Welsh Pony and Cob Association of Ontario) said, "These animals can be trained and enjoy companionship from people."
Dopko said, "They have a great attitude, are eager and willing to learn, and even though they don't know everything, they are always eager to try it."
"They are also very curious and brave, and don't shy away from objects or spook easily."
The Welsh are a great mount for young children. They can be found in many Pony Club stables and schooling barns.
Dopko stated, "As a hunter/jumper instructor, they've been an excellent mount for my junior riders as they tend to really care about their riders in the rings, are incredibly brave and will most often do what is asked them without making a big deal of it."
They are gentle animals with kind dispositions and willingness to please.
Howrans said that Welsh are intelligent and spirited animals with a loving and kind temperament.
They are great mounts for children, but they can also be enjoyed and enjoyed by adults. This makes them an ideal family pony. Howrans stated, "Truly they can be used by all ages from the youngest child to the grandparents."
They often form ties that bind generations. A pony bought for a grandchild can be used to drive the grandchildren's horses and provide entertainment for family and friends on weekends and holidays. They can be used to babysit the youngest member of the family and then drive the car with Dad.