Last Updated on February 28, 2022 by Allison Price
As a child growing up in England, I spent a lot of time around horses and in stable yards. Our horses' homes were called stables and not stalls. Most of these buildings were made from brick and mortar. A Dutch door was used for the traditional stable. The yard consisted of several stables of equal size, each with a storage or feed room.
The stables could be set in a square with the courtyard in the center or in an L-shape. Britain has a long tradition in all things equine.
Weather was usually wet and rainy. Stables everywhere were covered with straw to protect horses from the concrete floor. There were no rubber mats and shavings back then.
Many British stable buildings are now used as housing, but some remain for horses.
Brick stables can be hosed down with water, but it is not easy to clean. Horses cannot eat the brick Dutch doors. Brick walls can also be very hard on horses if they are kicked out or cast. Our show horses were wrapped in bandages to protect their legs against the rough brick walls.
Many horses are housed in brick stables and stone buildings throughout Europe, due to the use of traditional brick-and mortar building techniques. While I spent a lot of time in Germany training, I was confined to metal or wooden indoor arenas. However, the stable yard was almost always built with brick and mortar. Modern yards lined their stables with wood to protect horses from the harsh brick walls.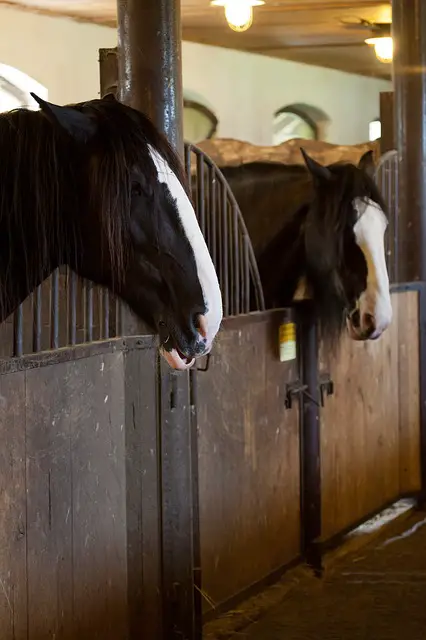 The stables kept the cold and dampness from reaching the walls at home during the cold winter months and rainy days. These layers were held in place by layers of hessian material, which had been retrieved through feed sacks.
When the horse was being chilled out from a hard workout, we would stuff straw between the layers of hessian to add warmth. The straw served to draw heat from the horse's body and dry it off. It was expensive to buy fancy blankets, and it took hours to wrap your horse and put him back on the ground after riding.
The modular stable was born. The modular stable was a boon for horse lovers who wanted one. If their parents were willing to convert their garden into a paddock, they could theoretically have one. They were easy to put together and offered natural insulation thanks to their wooden walls.
Advertisements for the portable stall were everywhere in horse magazines like Horse and Hound and Riding of that era.
Wood stalls are the most common stalls in America. Caumsett State Park, Lloyd Harbor, Long Island, N.Y. was my first livery site upon arrival. It was a 40-stall tin structure that had 40 stalls and had dirt floors. The Marshall Fields estate also has a beautiful brick horse barn. However, this was reserved for Grand Prix showjumpers and famous visiting horses.
A wooden structure has many advantages over a brick or metal structure. Wood absorbs sound and moisture which makes it more comfortable for your horse's health and also quieter. Metal doesn't produce condensation, so you don't need to worry about it. You and your horse won't be exposed to creaking metal when there are high temperatures or high winds.
Wooden structures are not only warmer than brick or metal in winter but also more comfortable than metal structures in summer.
Horse owners often forget to consider that a wrongly placed kick by a horse hitting a metal structure will cause serious injury.
A few years back, I visited a neighbor and he showed me his new metal building. He had made squares in the walls to house his horses and his business. The horses were shaved and placed on shavings. Tin walls formed the other wall of their living area. Horses grazed in the area adjacent to the metal walls outside the building.
I was not surprised to be able to point out the danger of metal near horse hooves. The neighbor thanked me for my concern and installed a wooden wall around the building's interior. Horses still enjoy grazing right up to the outside walls, even though they are no longer allowed to do so. It is a foolish decision to make, but it is one that many people overlook until it is too late.
Run-in sheds made of wood have a good reason.
Wood structures can also be easily redesigned and modified if you need to reconfigure or add to them.
It is important to consider where your barn will be located and how it is sided and kickboarded when designing and building your barn.
Horse safety and comfort should always be considered when designing horse accommodation. An experienced horse barn builder will help you to navigate the many options available to make sure that your horse care needs are met.
Modular barn construction offers many advantages, including the ease of assembly and quick delivery. You can also customize every aspect of the building and add to it later if necessary. To ensure you make the right choice for your horse barn structure, ask about financing options, warranties and see past builds.
Horizon Structures Inc., Atglen PA Modular horse barn and indoor riding area specialists. Horizon Structures offers a variety of kennels, playsets, and coops for residential and commercial use.
About Horizon structures: Whether you own one horse or twenty horses, there is one thing that all horse owners share… the need to provide shelter and safety for their horse partners. Horizon Structures combines expert craftsmanship with top-of the-line materials with smart, horse-friendly design to provide a complete line of barns and sheds that can be trusted by horse owners.
All wood Amish made. Our buildings come 100% pre-built and are ready to use the same day. The larger barns can be built modularly and ready in less than one week. All of our barn packages come with everything you need.
Horizon Structures also offers indoor riding arenas as well as chicken coops, dog houses, and storage sheds.
Dave Zook is the owner of Horizon Structures, LLC, a company based in South-Central Pennsylvania. Dave Zook was raised Amish and spent his childhood working in the family's shed business. Horizon Structures was founded by Dave in 2001 to meet the growing demand from customers for horse barns that are high-quality and affordable.
About Nikki Alvin Smith : Nikki Alvin Smith is an internationally published photographer and freelance writer in renowned publications like The Chronicle of the Horse and Horse, Horse and Hound and Dressage and CT. Ghostwriting, blog services and PR/Marketing copy for manufacturers or agencies are also available. Copy editing and editor services are also available. Nikki also creates catalog copy, whitepapers, corporate brochures, and advertising copy for international companies and PR/Marketing copy for celebrities.
Nikki is a Brit, who has lived in America for 34 years. This gives her a unique perspective on the world of equestrian. Nikki is also a Grand Prix dressage competitor and trainer. She has scored over 72% at international Grand Prix levels. She is also a sought-after clinician who offers clinics around the world. Since 1995, she has been a horse breeder/importer for warmblood and Baroque horses. Paul, her husband and Grand Prix trainer, also runs a private dressage breeding facility and training yard in the Catskill Mountains of New York.