Last Updated on October 19, 2022 by Allison Price
Horseback riding can be a dangerous sport. Safe riding means staying comfortable and not allowing accidents to ruin your fun. Picking the right clothes and equipment can be stressful. There are many different items that you'll need, and there are many options available!
Basic horse riding gear consists of the following essentials:
A nice pair of boots / comfortable chaps
A fitted and flexible riding pants
A pair of gloves that has a nice grip
A safety helmet
When choosing the right gear for you, it is important to keep in mind your budget, the occasion, and the quality. In this article, we will provide you the best products you can find for your horse riding gear.
Things to Consider in Choosing your Horse Riding Gear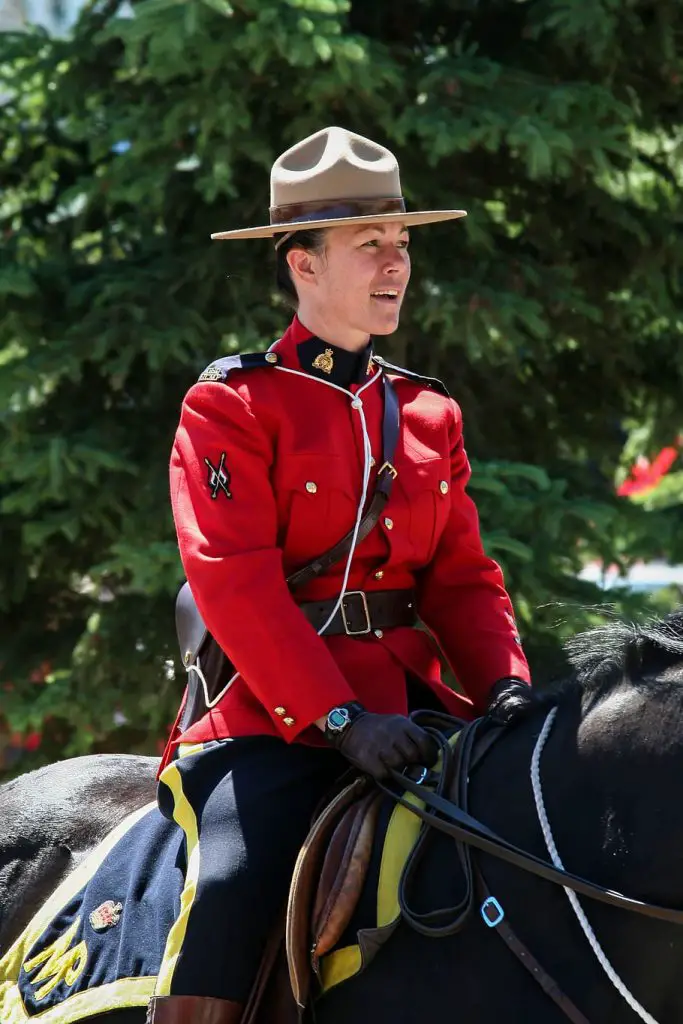 Top Quality Helmets
The first thing you need to do before riding a horse is to make sure you are wearing a helmet. It is important to invest in a superior quality approved helmet that can protect you head in case of hard fall. Helmets should be lightweight and comfortable. It comes in different sizes, styles and brand, make sure you pick the right helmet that fits you well.
Fit and Flexible Breeches and Pants
One can find a myriad range of equestrian pants in different styles. Go for high quality, comfortable western jeans with seams that don't rub when you ride. Breeches and jodhpurs are actually designed for riding. They are stretchable, hence with a comfort fit and allow for free movement. Also, the inside of the knees of breeches and jodhpurs is then padded that extend their life further.
Proper Boots
Equestrian boots are available in a wide variety of styles. That's why it can get confusing on what to choose and what not! Some boots are fine for work on the ground but not ideal for riding. If horse riding is a hobby for you and not a passion, you can look for paddock leather boots or half chaps. But, if you are serious about it, go for tall field boots.
Shirts, Coats, and Jackets
There are so many shirts available for riding. From Western shirts to traditional English shirts, you have a lot to choose from. A long-sleeved shirt should allow free movement of the arm. If it comes to coats or jackets, select the ones made for riding. Longer coats in the saddle provide free movement. Aside from the padding at the elbows, it should provide comfort and ensures movements. Moreover, riding jackets and coats are far more durable than regular ones any given day.
Gloves
Gloves come in a variety of materials and styles ranging from synthetic, to soft leather. Choose the one that has a nice grip as well as the size that will fit your hands.
Top 3 Horse Riding Boots for Women 2023
TuffRider Ladies Starter Front Zip Paddock Boots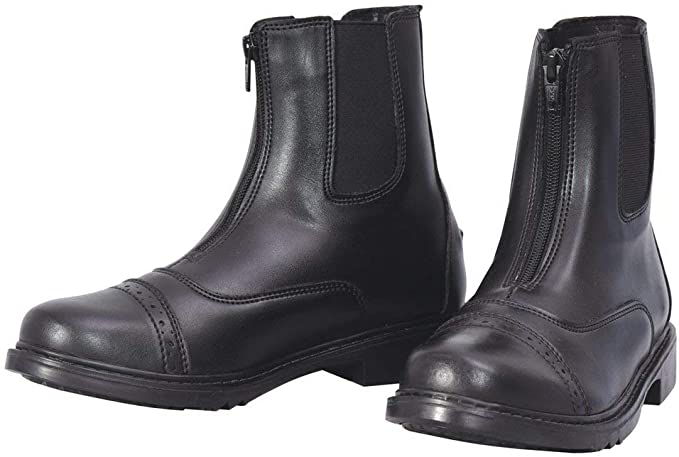 TuffRider's is the best choice for paddock boot for the ladies! Aside from being affordable, TuffRider is also durable for all day and every day use. This boots can be actually worn whether you are in the dry summer, snowy winters or wet monsoon. TuffRider Paddock Boots can be usually enjoyed while riding in a beautiful country side on a weekend for what you want.
This boot has a classic look, with features like spur rests elastic side gussets and punched toe caps. The exterior is synthetic leather while the outsole is then made of rubber. This allows for water resistance. This design will let you clean the boots using damp clothes without ruining the exterior.
Product Features:
100% Synthetic Leather
Use for all types of weather
Easy to clean
Affordable
Dublin Pinnacle Boots II Ladies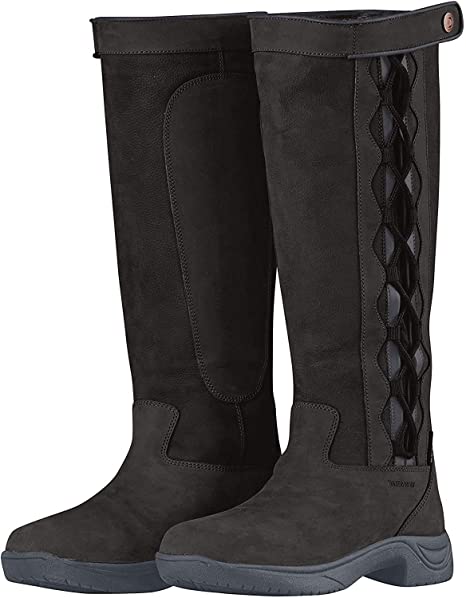 The stylish breathable, waterproof outer is actually made of full-grain leather. It is usually complemented by the unique lace-up design on the outer calf. It has a soft leather patch on the inside of the calf and a low heel. These are both perfect features when you're in the saddle.
Dublin Pinnacle Boots' attractive laces make adjustments easy while providing a comfortable fit. This is nice especially if you need extra room in the calf. The laces have a spring cord lock and a touch tape closure behind a leather band to finish off at the top. This has a moisture-wicking RCS footbed system with heel and arch support. It comes along with double cushioning layer for ultimate comfort. It has a breathable nylon lining and durable lightweight Touch Tec rubber outer sole
Product Features:
Waterproof and breathable lifestyle boot
Full-grain leather upper with full side lace change
Touch tape closure to accommodate various calf widths
ARIAT Women's Fatbaby Heritage Western Cowboy Boot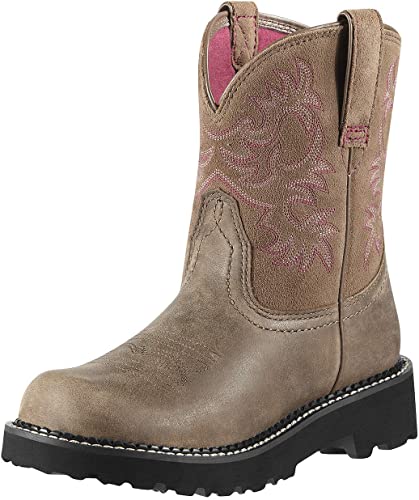 Ariat introduces a pair of fatbaby boots that you're going to be proud to wear. It was then built in comfort and durability. This is to ensure a comfortable feeling that matches its good look. It has a genuine leather vamp, and a suede shaft with embroidered details. These Fatbaby Heritage Boots are usually distressed brown leather foot. This has an eight inch fudge leather upper pro crepe sole. The sole was single stitched welts and fatbaby around the toe.
Product Features:
Rubber sole
4LR footbed support and cushioning
Leather foot and upper
Everlon combination EVA and blown rubber outsole
Not approved for riding
Top 3 Equestrian Pants for Women
FitsT4 Women's Riding Tights Knee Patch Ventilated Active Schooling Tights

The four-way stretch fabric of these pants will keep you cool and makes you feel connected to your horse. It keeps your skin dry and it also offers flexibility and freedom movement. This is perfect for all leisure activities as well as for schooling and riding. Fits T4 offers the ultra grip knee patches on the leg that provides durability and hold. Wearing this will enhance your connection with the horse in the saddle.
Product Features:
83% Polyester, 17% Elastane
The low-mid rise waist flatters every shape.
Inner side pocket to keep your belongings
The eco suede knee patch will enhance your connection with the horse in the saddle
Sizes: XS-XL
Kerrits Ice Fil Full Seat Tech Tight

Worry about the heat of summer season? Worry no more! Kerrits Ice Fil Tech Tights is actually made for warm weather. It converts sweat to cool air while lowering the temperature of skin up to five degrees. The pants also feature UPF 50+ sun protection to keep you protected while you ride on hot, sunny days. Versatile at its finest!
These pants feature two convenient side pockets. It allows you to store your essentials while you tack up or ride. It provides anti-slip in the inner leg and seat. It also provides an equal ratio of stretch, grip and breathability. It offers more security without the constraint of a traditional full seat tight
Product Features:
Ice Fill pant fabric for cooling
Stretch comfort waistband
Two low-profile side pockets
UPF 50+ sun protection
Belt loops
Rapid wicking fabric
HORZE Active Women's Horse Riding Pants Breeches
The Horze women's breeches feature a jersey-feel fabric. This gives these schooling breeches soft comfort. These riding pants are a nice choice when you don't want the formality of other high-end breeches. The soft fabric is warm and breathable. It is ideal for afternoon rides around the stable or on long trail rides. The front-facing basic zipper pocket will carry a single horse treat to reward a fun trip. It has a grippy silicone pattern on the full seat. It provides an extra level of security and control when you're in the saddle. Its midrise waist and form-fitting fabric provide great support. You will definitely love the comfort while wearing this.
Product Features:
Materials: 95% Cotton, 5% Elastane
The front zipper pocket is perfect for carrying a tasty horse treat, keys, etc.
Top 3 Equestrian Shirts for Women
HR Farm Women's Ice Feel Quick-Dry Performance Rider Long sleeve Shirt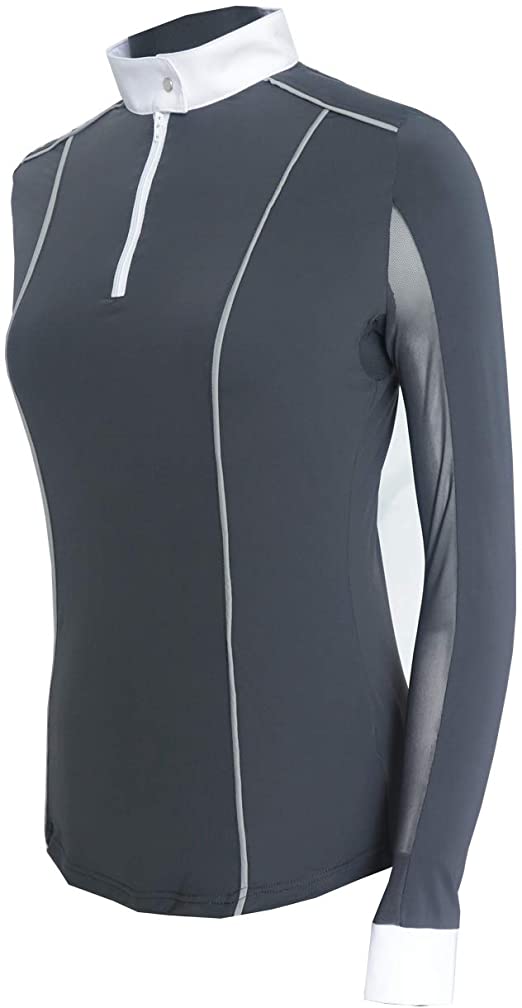 This long-sleeved shirt is perfect for a lady who rides a horse under the heat of the sun. The HR Farm Sun Shirt is actually made to protect you from the heat, as well as protection from UV Rays. HR Farm Long-sleeved shirt has a stretchable fabric that is ultra-soft and comfortable. Its moisture-absorbing fabric keeps you cool and dry. Plus, the mesh inserts under the arms provide extra ventilation and breathability. The 1/4-long zip of this shirt gives a smooth look, plus it is easy to wear on and off.
Product Features:
Stretch fabric is ultra-soft, comfortable, and breathable
The moisture-absorbing fabric keeps you cool and dry.
Mesh inserts under the arms provide extra ventilation and breathability.
1/4-length zipper – this gives a sharp look and is easy to remove
UV proof best choice for summer and warm days.
Farm Women's Short Sleeve Quick Dry Horse Riding Show Shirts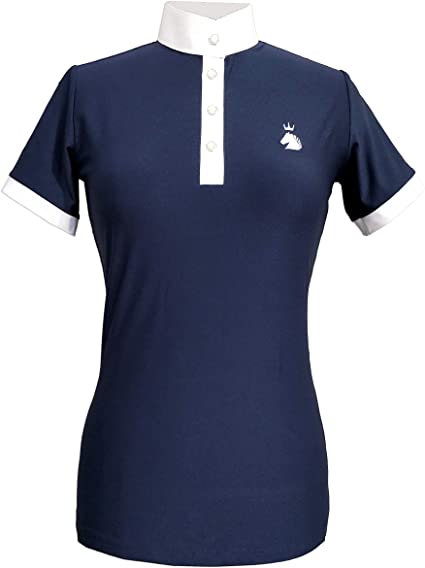 Wanting to keep you cool all the day? Then, try to get this HR FARM show shirt now. This short sleeve quick dry shirt will be your best choice for training or shows. Its moisture-absorbing fabric will keep you cool and dry. It is also UV proof UPF30 and your best choice for summer and warm days.
Product Features:
Button closure
Soft & Quick dry & ventilated & stretchy functional fabric
UV proof best choice for Summer and Warm days
Fashional buttons on the front
Machine washable in cold water
HORZE Trista Women's Long Sleeved Sun Protection Riding Shirt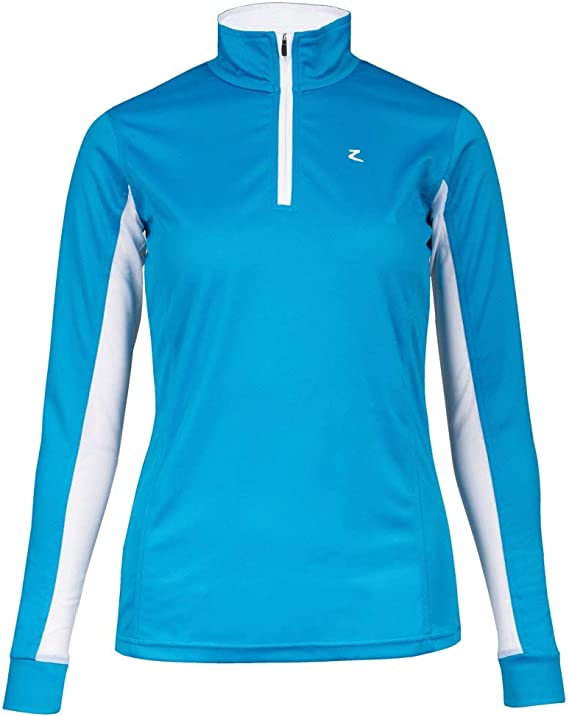 Keep cool this summer with this breathable Horze Riding Shirt for training or show. The main polyester fabric will dry out faster and it has added protection against UV Rays. Beneath the long sleeves, the mesh details will keep you cooler than any typical polo shirts. It even had a contrasting color at the collar they looks great worn flat or flipped up over your neck. This long-sleeved is also available in wide range of colors.
Product Features:
0.5″ high
12″ wide
Nanotex fabric has UV protection UPF 30+
Mesh detail under sleeve for improved air flow
Quick dry
Breathable features contrasting color inside the collar
Top 3 Horse Riding Gloves for Women
Mashfa Ladies Women Horse Riding Gloves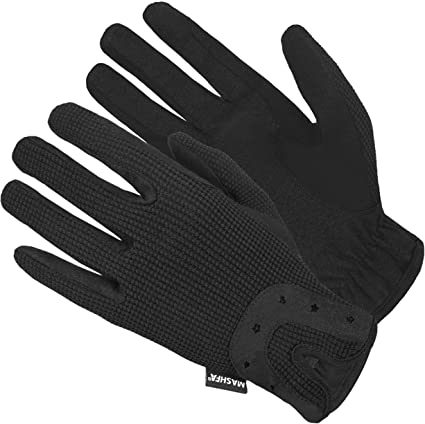 The Mashfa riding gloves for women can be actually used for outdoors and driving. It has 4-way stretchable and breathable fabric materials that will keep your hands cool. It is super light and this model has more to offer than just superior wear comfort girls riding gloves. It offers double-layered stitching with a reinforced forefinger, thumb and pinky. This is for the easy and tight holding of the reins. It is also machine-washable at 30° Celsius (86°Fahrenheit).
Product Features:
Elasticated wrists for optimal fitting
Soft cloth lined edges for superior wear comfort.
Reinforcements at the areas where the reins come into contact
Crafted with Hi-Tech Ammara Fabric knit gloves
It has the ideal grip and tactility when handling the reins.
Designed and measured fingers fitting for womens gloves.
 Jayefo Men & Women Horse Riding Gloves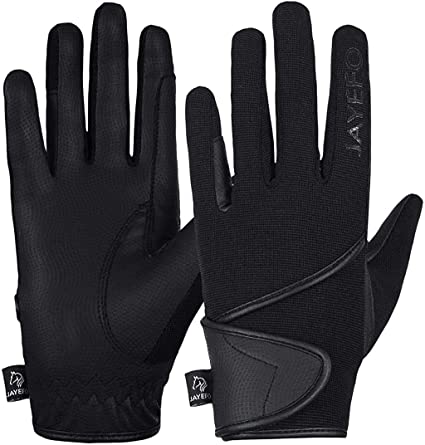 These Gloves come as a pair. It is adjustable as this gloves features a hook and loop closure for a perfect fit. The mesh fabric on the back of the Jayefo gloves offers a breathable design that will keep your palms cool. It also has an amazing grip on horse reins and you can use this while riding bikes, gardening, playing golf & etc.
Product Features:
Amazing Grip Palm, Non Slip Men & Women Gloves
Lifetime Warranty Horse Riding Gloves Men & Wome
Triple Stitched for Durability Riding Gloves
All 4 Season Sun Protection Gloves
True Size Women Black Cotton Horse Riding Gloves
Stretchable Material for Optimal Fit
Heritage Performance Glove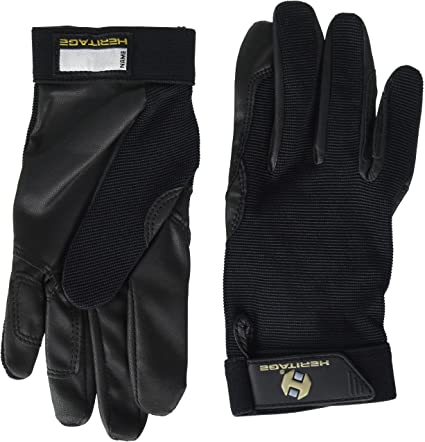 Heritage gloves were usually designed to perform in all uses of equestrian riding. This versatile performance glove delivers a quality fit and comfort for its riders. If you have a horse that kept pulling you, avoid burning your hands by using this. It has a nice grip and it's suitable for warm weather riding. These Heritage gloves are perfect for everyday use. Especially in schooling, training, competing and pleasure riding. You will appreciate its materials and design that goes into each glove from Heritage.
Product Features:
Synthetic grain leather
Imported
Stretch spandura material provides comfortable fit.
Patented rein cut design
Double Stitched critical outward seams.
Elastic cuff with adjustable strap
Top 3 Horse Riding Safety Helmets for Women
Troxel Spirit Helmet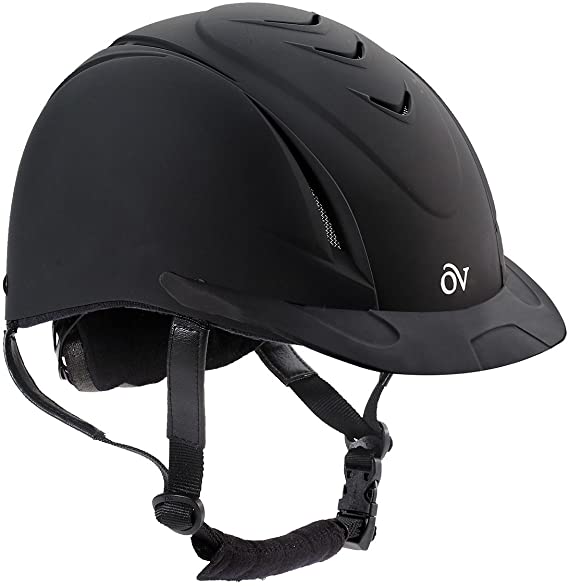 Troxel Spirit helmet is a lightweight schooling helmet that provides a close comfortable fit. The patented GPS II stabilizing system holds the helmet in place. This is perfect for growing kids and changing hairstyles. The Spirit is then considered to be the most popular all-purpose riding helmet ever. Its safety record speaks for itself. It even has exceptional ventilation that keeps your head cool. It also has an extended soft-tip sun visor. This helmet is available in different fun colors.
Product Features:
Gps II dial fit system
Mesh covered vents
Removable washable headliner
Extended soft-tip visor
Durable outer shells
Ovation Girls' Schooler Deluxe Riding Helmet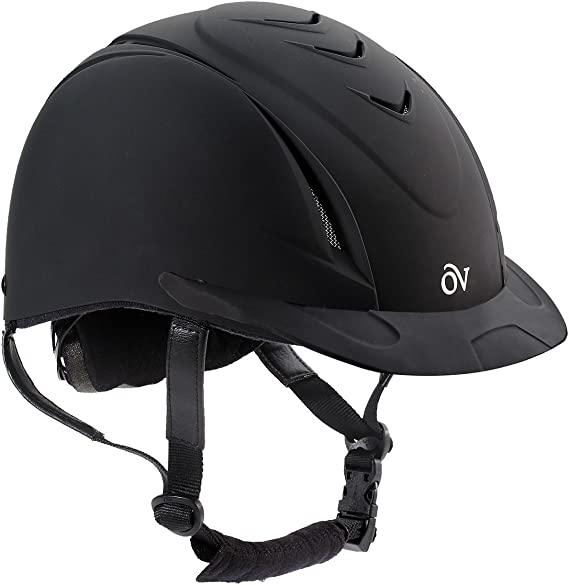 Ovation Riding Helmets come in different styles. It is commonly used in schooling or in the show ring. This helmet is in fashion colors and attractive metallic or matte finishes. The ovation riding helmets have low profiles, are lightweight, and with several features. This allows both ventilation and sweat absorption. Ovation riding helmet offers a dial change as well as harness adjuster clips for a good fit. It also features removable visors.
Product Features:
Lightweight low-profile helmet from Ovation
Easy-care rubberized finish.
Features easy adjust dial for a snug fit, extra strong adjustable teeth for added helmet life.
Unique YKK adjuster clips and buckles to keep off the rider's face for more comfort
This helmet is usually ventilated to allow cooling airflow to pass.
It has a removable washable liner and a removable breakaway visors.
Ovation Women's Protege Riding Helmet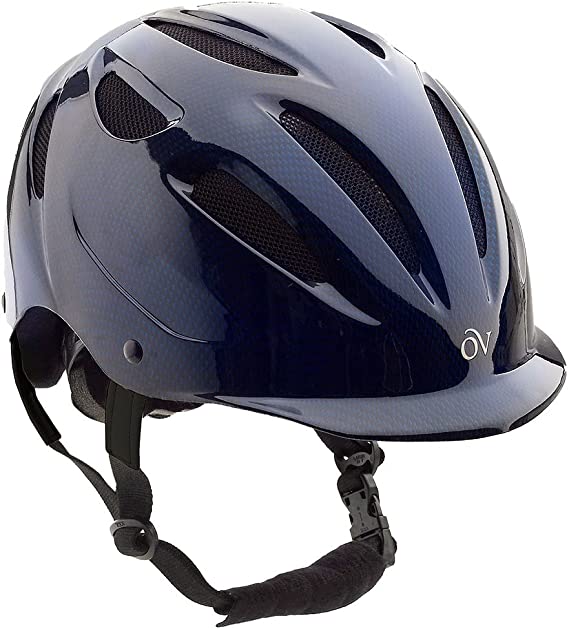 Ovation Protege Helmet is actually made of a cutting-edge for protection without excess weight. This made them one of the lightest and most comfortable helmets anyone can use. It is then also have a low-profile design that gives it a cool and modern look. It has interior vents that allow air to flow through. This is so that keeping your head cool while riding outside the summer heat. It is adjustable for a secure fit. This has a low profile design with extended back shell for extra protection
Product Features:
Mesh interior vents to help keep debris and bugs out but allows air to flow through
High flow vents to keep you cool
Removable washable liner
Adjustable dial to ensure a more secure fit. SEI Certified to ASTM F1163-04A
Extended back shell
Adjustable harness with quick snap buckle