Last Updated on February 19, 2022 by Allison Price
The most significant difference between jumpers and hunters is how they are judged. Judges of hunters are subjectively made by expert horsemen based on their style, movement, conformation, overall appearance, and the quality of the rounds. The jumper divisions are judged objectively based on refusals, rails down and falls as well as seconds spent over the optimal time. Simply put, the difference in hunter rounds between second and first is subjective. In jumper rounds, the fastest round wins regardless of style.
The original purpose of the Hunter Classes was to assess the characteristics required in a field hunter. They were designed to evaluate good manners, comfortable gaits, and safe jumping. These classes are more artistic and attract more "arty" horses. Jumper classes require boldness and athleticism from both riders and horses, and more of a "jock mentality".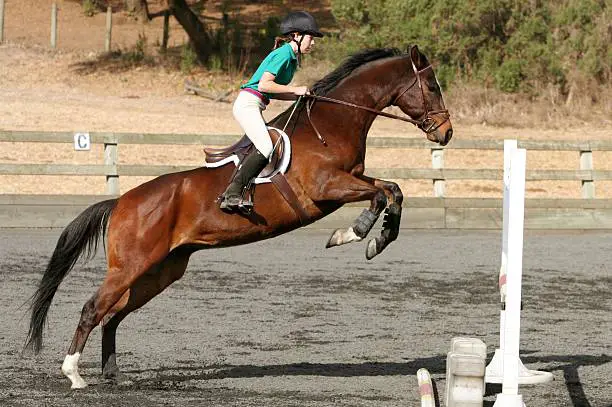 Show jumping is easy to understand for beginners due to its simple scoring system. You must be passionate about the artistic and detailed process of creating good performances. Also, you need to be motivated to compete for your own satisfaction. A lovely round in your eyes might not always be a beautiful round in the judges' eyes. The best jumping point for either sport was once the lower-level show hunters classes. Jumpers are a viable option for beginners, as they offer classes for all levels of riders.
Equitation, which is subjectively judged but on the basis a rider's performance and not the horse's, can also be a good starting point. Equitation is often seen as a means to an end, but it was intended to give riders a solid foundation so they can move on to the jumpers and hunters.
Jumpers are often mistaken for having less refined skills than hunters. Some people may believe that jumping is easy. They just need to get over the jumps and move fast. Jumpers need horses as skilled and sophisticated as the riders. It's art that wins at the highest levels of any sport.