Last Updated on February 21, 2022 by Allison Price
Summer is a wonderful time to ride outside. However, summer is also peak fly season. Pesky flies can cause itchy, irritating bites on your horse that can be both annoying and potentially dangerous.
If your horse is sensitive or you want to avoid chemicals, making your own fly spray for horses can be a great idea. It is also a much cheaper option than buying a bottle from the store.
Fly repellants can include chemicals that are effective in fighting annoying flies but can cause skin irritations to horses.
Because they are safe and effective, essential oils, dish soaps, vinegar, and other ingredients can be used to repel insects.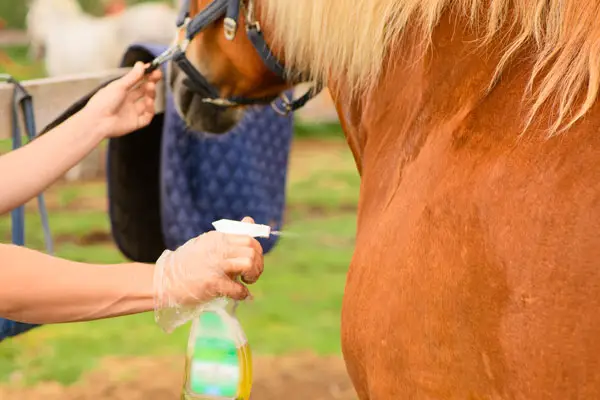 Homemade fly spray recipes for horses
You don't have to be an expert to make your own horse fly spray. You can make your own homemade horse fly spray using a variety of recipes, from easy to complex. You can make some with common household ingredients.
Keep in mind that you must test the repellant on a small area of your horse before spraying it all over. This will allow you to see if your horse reacts to any of the ingredients.
Basic DIY Fly Spray
The only ingredients required for this simple, effective recipe are three that you probably already have at home. This is a great option if you're looking for a quick and easy way to spray flys at home.
Recipe:
Use a few drops of Dawn dish detergent
1 cup water
2 cups apple cider vinegar
Combine the water with the apple cider vinegar. Mix in a few drops Dawn dish soap. Make sure that the mixture is well combined. Before spraying your horse's coat, shake the mixture gently.
U.S. Forest Service Recipe for Bug Spray
Many horse lovers have made this natural bug spray a favorite choice. This natural bug spray is safe for horses and can be used to repel annoying insects.
Recipe:
1 cup water
1 cup Skin So Soft from Avon
2 cups vinegar
1 tablespoon Eucalyptus
2-3 tablespoons citronella (optional)
Combine all ingredients until well combined. Mix all ingredients together in a spray bottle. Shake the spray bottle before spraying it on your horse's coat. Use only pure citronella oil, not the one sold in hardware stores.
Nan Martin's Refreshing Fly Mix
This beloved blend is a favourite among many equestrians. It is a great choice for keeping bugs away and has a unique smell that is not available in many other store-bought options.
Recipe:
5-10 drops Peppermint Essential Oil
5-10 drops Tea Tree, Melaleuca Alternifolia essential oil
5-10 drops Idaho Tansy Essential Oil
5-10 drops Eucalyptus Essential Oil
Lemongrass Essential Oil – 5-10 drops
5-10 drops Lavender Essential Oil
Water
In a spray bottle, add the essential oils. You can add between 5-10 drops of each oil depending on your preference. Add water to the remaining bottle and shake.
Lavender Horse Fly Spray
It only takes two ingredients to make this natural repellent for horses. The scent is pleasant too. Although it may not last as long as the name-brand options, it will keep flies away from your horse.
Recipe:
4 parts water, or vodka
1 part lavender oil
Combine the alcohol or water in a glass with the lavender oil. Mix well and use as much or little as you need. The alcohol version will dry quicker and not have a strong lavender scent.
Citrus Insect Repellant
This DIY horse fly spray is refreshingly scented and has been highly praised by many equestrians because it protects horses from annoying insects.
This repellent is great for summer, especially when the flies get very bad. If you're going to a concert, this repellent may attract dust.
Recipe:
2 cups light mineral oils
1/2 cup lemon juice
2 teaspoons citronella Oil
2 teaspoons essential oil of eucalyptus
2 teaspoons of lemon dish soap
Combine all ingredients in a spray bottle. Mix all ingredients together until well combined. Before each use, gently shake the bowl.
Bye-Bye Flies
Fly sprays for horses can be made at home, which is a better option than buying them in the store. This is an excellent idea if you are looking for a cheap, effective repellent that doesn't contain harsh chemicals or if you just want to make it yourself. These pests can be controlled with great recipes, no matter what the reason.