Last Updated on March 8, 2022 by Allison Price
A blanket may be the best option for you and your horse if you live in an area where it is necessary to have a warm coat in winter. When deciding whether your horse requires a blanket, many factors are considered, such as their breed, length and thickness. Here are some things you should know about horse blankets, and how to measure your horse to get one.
Are You Looking for a Horse Blanket to Protect Your Horse?
Horse blankets are designed to keep horses warm and comfortable in colder months. Although it is not required for horse ownership, many will argue if it is necessary. A lightweight blanket is a good choice for horses that are clipped. Horses with unclipped coats will be comfortable below 50 degrees, but they will still feel warm above freezing.
For a complete explanation, see When Does My Horse Have to Wear a Blanket?
A horse blanket can be a great idea if your horse is experiencing shivering in colder months. Horses can shiver more subtlely than others. You may need to check the extremities of your horse to make sure they are not getting too cold. A horse that has cold ears or muzzle may need an extra layer of protection.
Different types of horse blankets
Horse blankets come in a variety of weights. There are a variety of blankets available for horses, including light, medium, and heavy weight. The fill per square inch they have for warmth will determine the weight. There are sheets that can be used to protect your horse from the elements, but have no lining. There are two types of horse blankets.
Stable Blankets – These fitted blankets protect your horse when he is in a stable, stall or barn. There are many weight options to provide comfort for different temperatures. Stable blankets can be used indoors, but they are not waterproof.
Turnout Blankets – Turnout blankets, also known as sheets or blankets, are waterproof blankets that provide protection against the elements. They are lighter than traditional blankets and more flexible than those that are fixed, so they can be used in a variety of weights.
What is the importance of Horse Blanket Fit?
The fit of horse gear is crucial for safety and comfort. Your hose will be uncomfortable if the blanket is too tight. Buckles may rub or chafe. You run the risk of your blanket sliding, which can cause discomfort and injury.
How to Measure your Horse for a Blanket
Every horse is different, so measure them carefully to make sure you get the right size blanket. These are the steps you should take to ensure that your horse has the best blanket possible.
You should consider where the blanket or sheet should end at the rear. You can choose to have the blanket or sheet just below the horse's tail or to extend it long enough to "tent" the top of your horse's tail. There are many styles to choose from depending on what you answer.
Place your horse on firm, level ground and ensure that they stand straight.
Measure from the middle of the horse's chest to the point where the base and neck meet the chest. Follow the measurement from the center of your horse's chest to the middle of the tail or where you want it to end.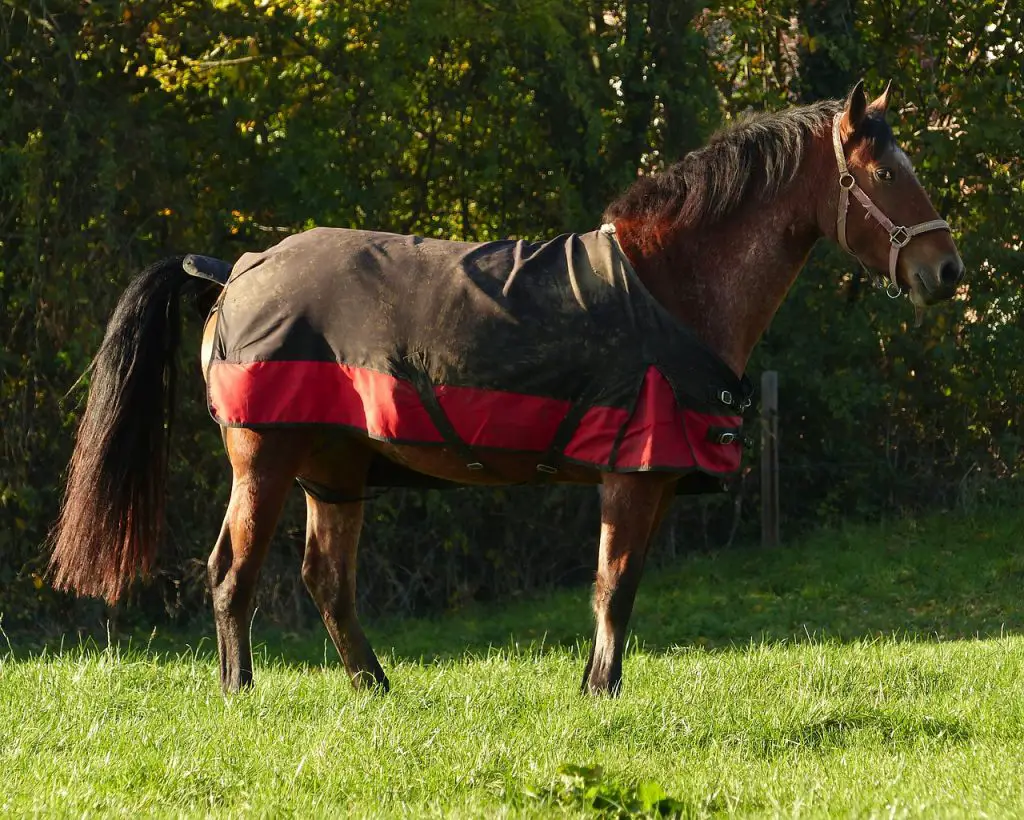 For this purpose, you will need a soft measuring tape. However, you can also use a piece or string. Use string if you have it. Cut it to the desired length and then compare it with a measuring tape. Make sure you pull the string or tape tightly when measuring. To ensure the perfect fit, it's a good idea twice to measure.
If you are unable to help yourself, it is helpful to have someone else assist. You can still do it yourself by measuring your horse from the chest down. With your thumb, mark the stopping point and take the measurement. Measure from the stopping point to the end of the blanket and add these two measurements to get the length.https://www.youtube.com/embed/HWvoO_lxHYo
Choose Your Size
Your horse will need a blanket that is the same size as your inches. Stock blankets are available in 3 inch increments. If your horse's measurement differs from the standard size, you can simply round up to get the closest number.
Manufacturers lay the blanket flat on a flat surface with no fastenings to measure its size. They then use a soft fabric tape to measure the width of the blanket or sheet from the front to back, similar to how they measured your horse.
How to use a horse blanket
Place the blanket/sheet on your horse by starting at the front, then moving to the back. Secure the blanket or sheet to your horse by fastening the closures at the front of the chest, followed by the surcingles and finally the leg or tail straps. This will ensure that you don't lose any straps and your horse won't move suddenly. These instructions will help you to remove the blanket from your horse's body.
Recommended Horse Blankets
These are our top horse blanket brands, which offer sheets and blankets made from high-quality materials for your horse.
These brands offer many options for horses, including different blanket shapes and fillings. There will be extended neck and tail coverage so you can choose the best blanket for your horse.
How to Choose the Best Horse Blanket
It is important to know how to measure your horse if you live in a place where blankets or sheets are needed. Next, select the best option for coverage and fill for your horse.