Last Updated on March 8, 2022 by Allison Price
I was researching my second horse when I began to research it in 2017. I looked at many different breeds.
Warlander
Drum Horse
Norwegian Dole Horse
North Swedish Draft Horse
Gypsy Vanner
Shire
Clydesdale
Black Forest horse
Draft x Gypsy crosses
Friesian crosses
Shire crosses
Iberian crosses
Noriker
Percheron
American Cream
And maaany more. Although I knew I wanted a tall, stocky horse, I didn't want the typical features of a draft horse. It was insane how many hours I spent reading about horses last year. I came up with a list and searched all over the globe, except for South America and Australia. If I said how difficult it was for me to find my horse, you wouldn't believe me.
What are my requirements?
Between 0-3 years
At least 160 cm
Excellent health and clear x-rays
Parents who are kind and healthy
Intelligent and curious personality
Get along with other horses
Good hooves
It's not bay/tobiano/piebald
Avoid riding
Although it might seem like a terrible list to some, I don't believe so. Some people were horrified that I had excluded certain colors. It's mine choice. However, I didn't care about show results and did not require anything fancy or purebred. I was happy to pay what the owner asked for to get what I wanted.
Personality was an important trait. Batman is a sensitive horse who can be quite scary and sensitive. He can be very energetic and make strange noises, so if he hears something, he will run at you and grow 3m tall. I won't even be able get him to the ground until we get back to the stables. This behavior is a bit tiresome for me because I get scared and begin to imagine the worst. But that's just how he is.
I began to think hard when I saw some intriguing Iberian crosses and Warlanders. I don't like riding horses and prefer horses with the same energy levels as me. I would like to have more energy but prefer horses who are more grounded. I can't imagine spending another decade riding a horse that is so jumpy and ready for immediate action. I am not an instant-action type of rider. Although training can make a big difference, you cannot take away the horse's ability to perform over thousands of years. I decided to stop looking at Iberian crosses and Warlanders.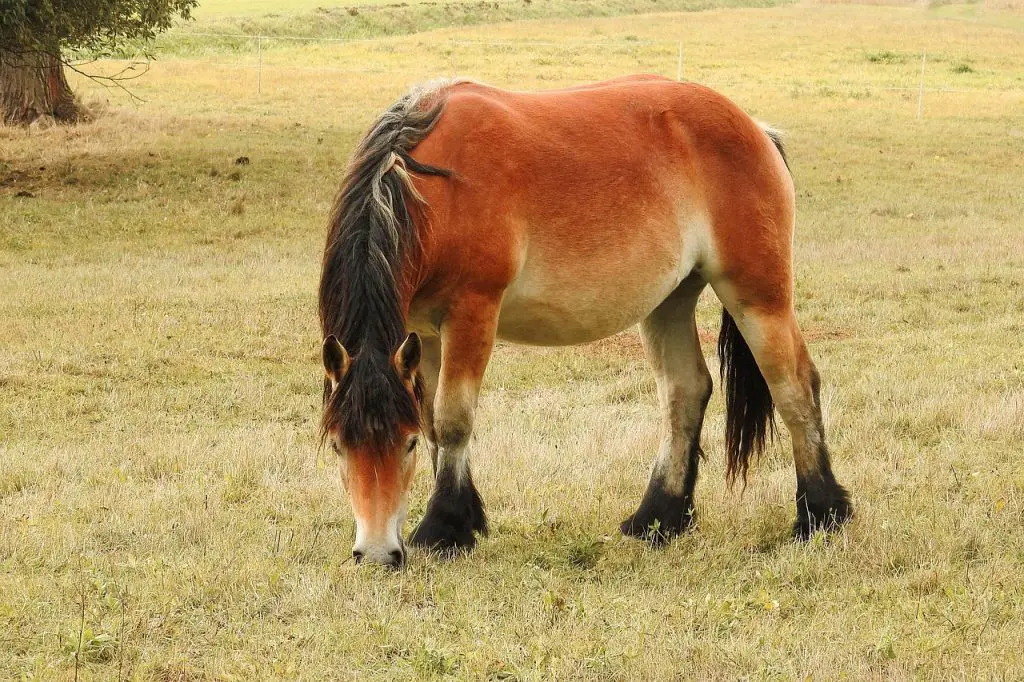 Another problem was my height. My height makes it difficult to ride light horses or noble horses bareback. It's not something that some riders don't mind, but it's something I struggle with. I don't like the feeling that I can't jump logs while hacking without pulling my legs up. My legs shouldn't be below the horse's belly and pulling me out of balance when trotting. I prefer to be smaller than my horse and like everything to look balanced. Horses less than 160 cm are too small, regardless of their width.
So I began to look at Draft crosses, and the Drum horse in particular. They are powerful, friendly, and beautiful. I spent many years searching for the perfect Drum horse. Unfortunately, my search led me to the United States. However, I experienced some difficulties and was forced to give up on the horse of my dreams due to health issues at an early age.
It was ultimately between four breeds: Shire and Dole horse, North Swedish draft, Drum, and North Swedish draft. It was possible for anything to happen. Although I did find some interesting Shires in England, Scotland and elsewhere, the sellers were douchebags. I was unable to find any other Shires that I liked. I gave up drumming and shifting and bought a Scandinavian horse. A horse that could fit in my trailer would also be available in my country, in other worlds. After spending months trying to figure out how to transport a horse between New York and Oslo, it was a breeze.
One of the three Norwegian Dole Horses is the Norwegian Dole Horse. They are gentle, light-drafting horses that are intelligent, strong, powerful, and beautiful. After seeing them from a new perspective, I found myself liking them more than I thought. They were dressage horses that ran proudly in the mountains, with flowing manes, thick tails, and instead of being used for farm work or driving, Then I realized I could have one as long as it was tall enough.
When I wrote openly that I wanted a 160 cm Dole, it was laughed at by people. He wasn't bay, ridden, or driven. I ignored them and found him. He was everything I had hoped for and more. He was the most beautiful horse I have ever seen. It was love at first sight. He was so perfect. I was still sad about the American dream horse but this horse was also my dream horse. I was at peace when he passed the vet exam. I realized that the vet who performed the pre-purchase was not trustworthy. When I picked him up, I took him to my vet for another vet exam and new xrays. Multiple severe injuries were found. There is no way to repair the broken bones. Another nightmare crushed. (ALWAYS DO A SECOND OINION, A THIRD, and A FOURTH! And always do x-rays! Even a perfectly healthy horse can sustain life-threatening injuries. (This was something I had to learn the hard way.
By this time, I had already spent more than 4000 euros on vet visits. It is possible to buy a decent Dole horse for this price. I was a little annoyed but continued on. Although I saw some beautiful North Swedish horses online, I couldn't find one tall enough. Another Dole stallion was also available, which was quite lovely. However, when I got there I realized that I wanted to make him look like an pony. He was unfortunately too small. I'd do anything to reach 165 cm. I drove home.
Although I wanted a Dole or North Swede, I didn't want to purchase a horse that wasn't my dream horse. I was fortunate enough to be offered a rare opportunity by a friend. Within a week I found Iver. It is not an easy task to find a horse. It is difficult to find a horse that passes the pre-purchase exam. It is possible and I learned a lot from last fall. Although it was difficult, the end result was positive.
Although I searched the globe for the perfect horse, the one who ultimately stole my heart was only an hour away. I am very happy that I found a Norwegian Horse. Dole horses are in danger of extinction and need some publicity. It is wonderful to be able to share a bit of our cultural heritage with others and to also have the chance to show the Dole horse world. Iver is the perfect combination of power, calmness, sensitivity and pride. He has great movements and is in perfect health. I found everything I needed in him, even though I didn't know what it would be.