Last Updated on March 2, 2022 by Allison Price
Ten Best Horse-Friendly Dog Breeds
Horse lovers are fond of all animals, even dogs. The bond between horse and dog is special. Dogs can be a valuable asset for horse owners, whether they are providing companionship or guarding the barn from rodents. Some dogs are not suitable for barn life. It is crucial to do thorough research before you adopt a dog to ride with you.
These are the top 10 dog breeds that get along horses. Despite the fact that personalities are different even within the same litter of dogs, some breeds are better at interacting with horses than others. The top ten best breeds of dog for horses are the Australian Shepherds and Jack Russell Terriers, Golden Retrievers and Welsh Corgis, Australian Shepherds and Jack Russell Terriers as well as Border Collies, Australian Cattle Dogs (Australian Cattle Dogs), Dalmatians, German Shepherds and Labrador Retrievers.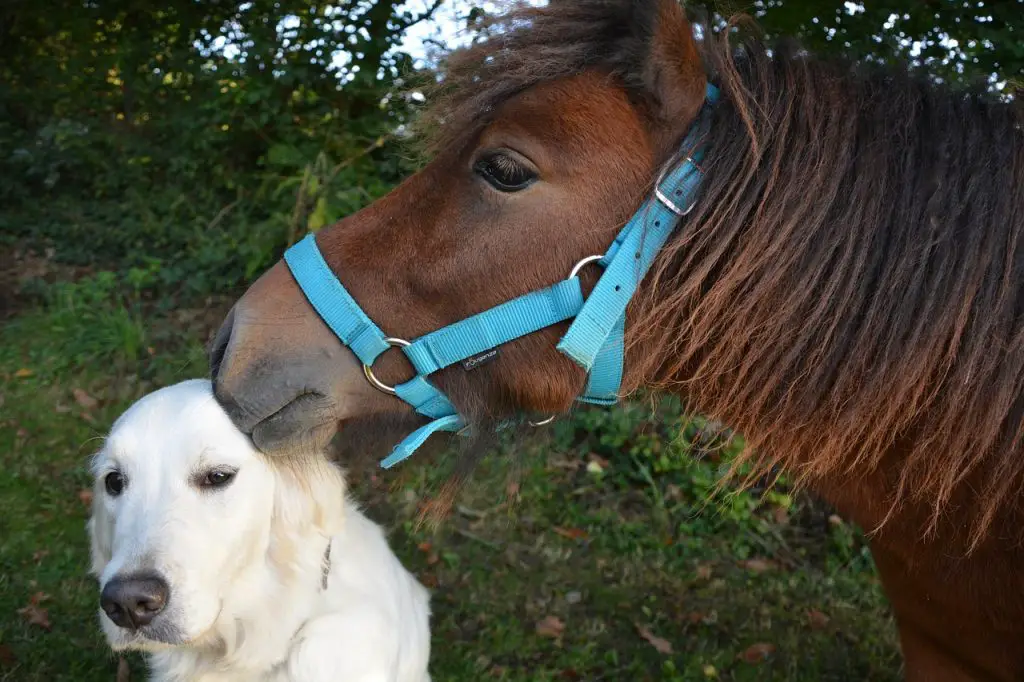 No matter what breed of dog you choose, it's important to teach your dogs how to behave around horses. You can make sure that your horse and your dog are happy, healthy, and safe through consistent training. We will be sharing more information about each of these ten breeds in this post. We hope this information helps you make informed decisions about the best dog breed for your situation.
TEN DOG BREEDS THAT ARE PERFECT WITH HORSES
Today, there are many dog breeds. According to some authorities, there are over 350 dog breeds. Although some breeds are more friendly with horses than others it is important that you note that this is not a complete list.
There are many personalities and temperaments within each breed and each litter. A dog of a more aggressive breed might be able to interact well with horses, while a dog of a different breed could cause chaos and stress. It is important to properly introduce your horse to a dog. You can make sure that your horse and your dog have a positive relationship by providing training and exposure.
We know that most breeds of dog can be trained to live with horses. However, there are a few breeds that have been known to interact well with horses.
1. Golden Retriever
The Golden Retriever is a popular breed in both the equine world and worldwide. This medium-sized dog is known for its gentle, kind nature and ability to interact with children, animals, and horses. The Golden Retriever is a loyal and intelligent dog. They are easy to train and can adapt to any environment.
Golden Retrievers have a great size and a long, happy life. They are small enough to be underfoot. They are not too small to be able to compete with larger animals. Golden Retrievers, especially in their early years of life, are full of energy and love exercise. They make excellent companions on trails.
Golden Retrievers can have health issues that could prove problematic in later years, as with all breeds. As they age, common health issues such as patellar luxations and hip dysplasia can cause discomfort in your Golden Retriever.
2. Welsh Corgi
A small dog is not likely to be the first thing that comes to mind when you think of dog breeds that can work well with horses. Welsh Corgis, a breed that is bred to work with horses, are one of the most popular dog breeds. Corgis were originally bred to work alongside livestock. They aren't afraid of larger animals.
Both Cardigan Welsh Corgis Pembroke and Cardigan are excellent dogs for daily life in the stable. They are small but agile and love exercise. This could be the perfect companion for your canine friend on trail rides.
Welsh Corgis, like Golden Retrievers are well-known for having mobility issues that may limit their mobility later on in life. Although they can cause discomfort, hip dysplasia and intervertebral disk disease aren't common in active Corgis.
3. Australian Shepherd
Because of their energy, many equestrians fear Australian Shepherds. Although this breed is energetic, they are well-suited to life with horses. The Australian Shepherd was developed in the west United States and is an excellent companion for those who want to ride with horses.
You should only consider adopting an Australian Shepherd when you are able to provide plenty of exercise opportunities. Australian Shepherds have a reputation for being intelligent, energetic, and long-lasting. They don't like to be left alone in the stable and need more exercise than other breeds.
Australian Shepherds can be affected by a variety of genetic conditions, many of which are linked to their eyes. Australian Shepherds can suffer from epilepsy in some cases.
Australian Shepherds are beautiful. This stunning breed can be spotted with blue eyes, brown eyes, or multi-colored eyes. Australian Shepherds, which are medium in size, make a great choice if you have active horses.
4. Jack Russell Terrier
Jack Russell Terriers are one small breed on this list. They are energetic and bold, which makes them an asset to any stable. They are intelligent and adaptable. Many Jack Russell Terriers have happy, long lives. They make excellent companions for horse and rider.
Despite being energetic, this breed is smaller than larger breeds and requires less exercise. They are still agile enough to take part in activities such as trail rides or other activities around the stable.
5. Border Collie
Border Collies are well-known for their focus and ability to work together. Border Collies are intelligent and obedient dogs that make great companions. Border Collies are well-known for their loyalty and strong desire to please owners. They are reliable and easy to train which makes them valuable companions for horses.
Border Collies have a lot of energy. Your Border Collie, like other energetic breeds of dog, needs plenty of stimulation. This breed can become restless and problematic if it is not provided with these stimulation opportunities. Horses can be exercised in a variety of ways, but it is a great place to live with horses.
6. Australian Cattle Dog
The Australian Cattle Dog, often confused with Australian Shepherds is an excellent companion dog for horses. Like other breeds of dogs on this list the Australian Cattle Dog requires regular exercise.
Australian Cattle Dogs tend to be smaller than other breeds of dog, and are usually short and strong. They are a great choice for stables with horses that fear easily.
Deafness, hip dysplasia and arthritis are some of the conditions common to Australian Cattledogs. This breed was created to withstand harsh environments. This breed is able to withstand extreme conditions and health problems.
The Australian Cattle Dog is a great choice if you're looking for a calm companion dog to go with you on trails.
7. Dalmatian
Many reasons are why Dalmatians have become so famous. You can see many examples of Dalmatians being used to work with horses in America's long history. Because of their ability to interact and work with horses, Dalmatians have earned the title "fireman's dog".
Many horse owners hesitate to adopt a Dalmatian because they require a lot of care and attention in their first years. This beautiful dog can be both a companion and a guard dog for your horse.
Another reason for concern about Dalmatians is their wide range of health conditions. This breed is susceptible to hip dysplasia, hearing loss, and other genetic problems. Your Dalmatian can be trusted to stay healthy and happy while you are riding.
8. German Shepherd
German Shepherds are a breed that many equestrians avoid because they can be more aggressive than other dog breeds. German Shepherds can be a valuable addition to any stable if they are properly trained. They require a lot of exercise and are very energetic. They are alert and ready to protect their owners as well as the animals.
It is important to be ready and able to train your German Shepherd. This breed needs lots of positive reinforcement training and socialization, especially when they are around horses or other animals.
9. Labrador Retriever
Labrador Retrievers are a popular breed. They can be mixed with other breeds to create unique combinations. They can have a wide range of personality and characteristics. Labrador Retrievers can be great with horses and people.
Labrador Retrievers can be friendly and easygoing. They are energetic and can keep up with long trails rides, which is something that may be a problem for other breeds. Labrador Retrievers can be obedient and loyal making them a great choice for new owners or equestrians who don't have the time to train their pup.
10. Great Pyrenees
Great Pyrenees are large, fluffy dogs that can be trained to guard people and property. This breed is territorial and can be quite gentle with animals and people. Great Pyrenees require a lot of activity to keep them happy. Great Pyrenees can be difficult to train. To properly train their dog, owners need to be patient and determined. Once this is done, the Great Pyrenees makes a great addition to any stable.
This beautiful breed was originally developed to be a guard dog. They do however bark quite a bit. This is a great asset for some people, but it may not be the best choice for horses with sensitive horses. Great Pyrenees can become quite large so it is worth considering if you plan to travel with your pet.
Horses and Dog Breeds Not Getting Along
It is almost impossible to find a list of dog breeds that get along well with horses because there are so many personalities and traits of different breeds of dogs. It is important to remember that a number of factors can prevent a dog becoming a faithful companion for your horses.
Breeds with strong herding instincts
Although herding dogs were designed to live with livestock, their strong herding instincts can sometimes get in the way. It is important to understand that herding dogs will need a lot of exercise and training to overcome their bad habits. Your horse companions might become stressed if your dog tries to herd them incessantly. This could cause serious injury to the horse, the rider and the dog.
Breeds that are small and fragile
Many smaller breeds of dog are compatible with horses. It is important to be cautious when introducing your horse's fragile, small dog to him. Small dogs can be timid around larger animals. This makes it difficult for them to thrive in a stable environment. Dog breeds that are smaller or more fragile are more susceptible to being injured in the bustling stable environment.
Breeds that are loud or aggressive
All dogs are capable of receiving proper training. However, some breeds are more aggressive than others. Your dog should not be aggressive towards other dogs, horses, or animals. Dogs that bark too often can cause chaos and stress in the barn.
Choose a dog that gets along with your horse
It is important that you choose a dog who is compatible with your horse's lifestyle and needs. It is important to take your time when introducing your dog. You should socialize them in a controlled environment until they are comfortable with each other. You can make sure your four-legged friends are safe and healthy.
Nothing is more fun than taking your dog and horse on a trail ride. Your horse gets to enjoy the ride, and your dog gets some exercise. Your horse and your dog must get along well for safety. For more information, see our article Safe Horseback Riding with Dogs.